Pueblo, Colorado businessman Matt Smith (Left) and Undercover Billionaire Grant Cardone cut some deals - (Discovery Channel photo)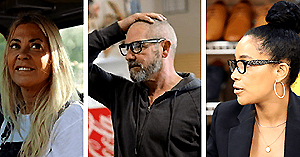 The Undercover Billionaire 3 millionaires include from left: Elaine Culotti, Grant Cardone and Monique Idlett-Mosley
Video Beat - REALITY SHOWS LIVE or CONTRIVED?

James Loving - National Radio Text Service
The production of some reality shows raises numerous questions. The most obvious is are participants on the show that aren't the principle characters being used and abused for committing to work for free in order for the main characters to make money?? Also are some business owners using their participation and use of their business something they really want to do OR… do they see the value of the FREE PUBLICITY by participating on a reality show?
UNDECOVER BILLIONAIRE'S GRANT CARDONE
Thursday September 23, 2021
I tell you true, as the lady in Thailand once said to me, I have some serious problems with the way some so called reality shows are produced. The Discovery channel seems to be in the lead for producing reality shows but the problem is some appear to be more contrived than reality. It appears there's an abundance of script procedures being applied.
Firstly in Undercover Billionaire the three so called millionaires all seem to display that using people is the way to go if you want to become a millionaire. All three of the shows principles Grant Cardone, Monique Idlett-Mosley and Elaine Culotti have been convincing people to work for free. They claim that they will be rewarded in the end but there is no guarantee or a written contract.
The shows objective is to put a business together and build a million dollar company valuation within 90 days from a start up of only $100 cash, an old truck and a cell phone. It isn't disclosed if the phones have been prepaid for an unlimited amount or WHATEVER.
The most annoying is loud mouth gravel voiced Grant Cardone who is trying to convince citizens of Pueblo, Colorado to invest in him with THEIR MONEY in order for him to become the Undercover Billionaire. His overused promo for the show has him claiming the he makes a lot of money. He adds whatever you think you know about achieving the American Dream is wrong.
He disclosed that when he was young he had substance abuse problems. He claims that he conquered that and now has turned his life around to become a millionaire. His worth is $300 million. Cardone is the CEO and founder of Grant Cardone enterprise housing all his companies - Cardone Training Technologies, Cardone University, Cardone Acquisition, Cardone Capital, and Grant Cardone TV network.
Well that's a warming feeling. It left me with the reaction that I would never do business with him. For starter for some strange reason he is the only contestant that is using an alias. This disturbs hi as he often says when he encounters problems that he feels guilty and would have more bargaining power if he used his real name GRANT CARDONE.
THE QUESTION IS… WHY NOT USE HIS REAL NAME since nobody has heard of him anyway. When we searched for information on him nary much was to be found. If his companies are so successful then why are they and he such a secret?
Cardone has encountered numerous problems during his time on the show. His most blatant error was when he announced that he was going to use a barber for his contacts in the city. He brazenly announced prior to his mission that he was going to get a haircut that he didn't need just to make this contact.
The barber was Antwan Burton a former NFL player that played college ball at Temple University. Cardone convinced him to get 10 of his friends together to listen to Cardone's business opportunity of purchasing an apartment complex.
His scheme worked. The barber who was well known in Pueblo recruited 10 of his friends to meet with Cardone to hear out his grand plan to make money. T
he plan was Cardone wanted to raise $200,000 for a deposit on an apartment building. He wanted to take over the building and RAISE THE RENTS. One of the attendees asked how much money he was putting into it. His reply was that he was going to make it work. The attendees, largely people of color, looked at each other and it was unanimous… they bailed aka failed to commit the $20,000 each he requested.
To make matters worse the owner of the building decided to do business with another group to purchase the building leaving Cardone out in the cold. Basically he was trying to raise money with SMOKE and MIRRORS. His deal-making was by using other people's money for something that he did not have secured.
His failures resulted in him saying to the production crew that he was going to leave the show. He was depressed and apparently embarrassed that he couldn't set into action what he was selling. He was all BARK and NO BITE. He is ALL SIZZEL and NO STEAK.
The 63-year-old Cardone had COVID twice during the production of the show. It interrupted what started out with him having good results. His success was making a relationship with a young owner of a gym and a mattress company Matt Smith. He was successful in promoting the mattress company's product to increase sales. For that he was paid $10,000 and then he caught COVID. He had to leave the show and when he returned he was SOL aka $#!t OUTTA LUCK.
While he was gone the Smith hired a young Z generation team to promote his business. The gym owner then tried to team Cardone with the young all female Z Gen team with him in charge to form a promotion business. The Z team's expertise was how to best use social media. Although the Z Gens are a bit confused as to who is this guy, what are his methods? The upside is the Z GENS have their faces on a TV show.
Smith then set him up with manager of a bank to sell them on the idea of representing the bank in promoting their already successful business. The result was positive and they made a deal and some money and a commitment for one year at $10,000 a month. Now Cardone began to feel his juices while Smith did all of the heavy-work by recruiting and securing contacts while Cardone HAS NO MONEY.
That subject came up when Cardone called a meeting with Smith to figure out who was the boss of the unknown company. In how to divide the money Smith said 70-30 his way since he was putting up all the money. Cardone refused and they settled on 51-49% Smith's way BUT Cardone called the shots. They then named the company Wake Up Marketing.
Smith says he's likes and is helping Cardone because he likes (to paraphrase) his fire and hustle. The end result is they are partners in a promotion business. The overview is… does the gym owner really like the relationship OR… does he see the advantage of BEING ON A RELITY SHOW AND GETTING FREE PUBLICTY THAT COULD COST $ MILLIONS.
There is no doubt that all of the participants involved will succeed THERE WOULD BE NO TV SHOW, the show would not be televised. The reality is… that is not reality. Stay tuned…
Part 2 - Fresno Here We Come
GENERATION CHART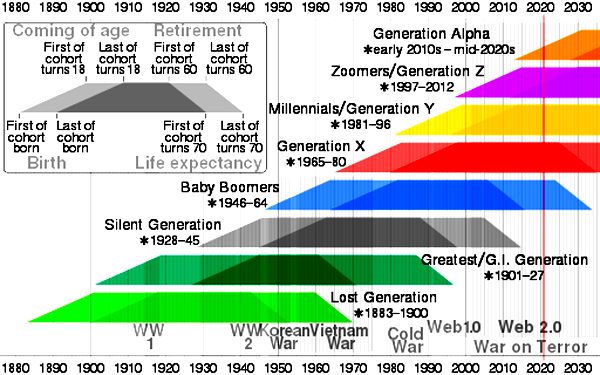 © Copyright: National Radio. Any use of these materials, whole or in part, is prohibited unless authorized in writing by National Radio. Contact: nationalradio@yahoo.com All rights reserved.