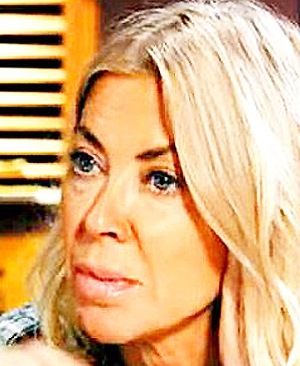 Undercover Billionaire's Elaine Culotti drives hard bargains - (Discovery Channel photo)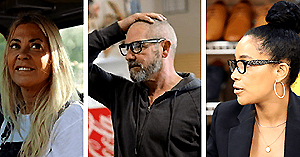 The Undercover Billionaire 3 millionaires include from left: Elaine Culotti, Grant Cardone and Monique Idlett-Mosley
Video Beat - Undercover Billionaire's Elaine Culotti Drives Hard Bargains

James Loving - National Radio Text Service
Unlike Grant Cardone Elaine Culotti puts the pedal to the metal as she worked hard at the beginning of her challenge to earn money to survive and invest. For shelter she was living in a struggling hotel in downtown Fresno. She convinced the owner to….
2 B or NOT 2 B HOMELESS?
Wednesday October 13, 2021
The TV series Undercover Billionaire has so many mysterious twists and turns that it raises many suspicions. The shows challenge is for three, in real life, successful entrepreneurs to go undercover in three different cities and attempt to start a business and attain a "valuation of $1 million dollars" in 90 days.
They begin their endeavor with just $100, a cell phone and an old truck. With that they are to is do is multiply its value to achieve that $1 million evaluation of the business they have created.
Last month we reported our assessment of Grant Cardone who went to Pueblo, Colorado to sell his bill of goods. We were left with the impression that he was good at using other people's money and working FOR FREE. He invested money that he made from promoting a mattress business and after a bout with COVID convinced that mattress company owner that gave him $10,000 for his promotion to partner with him in a marketing business.
This month Elaine Culotti who was assigned to Fresno, California is our subject. Fresno stands out because in the late 70's I worked and lived there for a month as a member of a band. We played at Pardini's then a then well recognized and respected restaurant, nightclub and caterer that also owned an adjoining motel. It was this living experience that resonated with me since Culotti was challenged with overcoming a city that is going through hard times with homelessness, crime and drugs.
Unlike Cardone she puts the pedal to the metal as she worked hard at the beginning of her challenge to earn money to survive and invest. For shelter she was living in a struggling hotel in downtown Fresno. She convinced the owner to let her stay for free in exchange for cleaning up the premises. She also took a job selling produce for a vendor to earn cash. Eventually she gained their trust and respect from the hotel's owner for her work ethic and later became partners with her in her venture.
One of her selling points was she wanted to help revive the community and create jobs. Her downside was we feel she took advantage of others living in the hotel by telling them that she was in partnership with the owner and that she planned to renovate the building. The twist is she informed them that when the building was renovated she was going to charge $1,000 a month rent for a room with NO INSIDE TOILET that they were then renting for $300 a month. To shower or go to the toilet they had to go down the hall to a shared facility.
Now here's the drill…. when I lived in Fresno it was not in downtown but on Shaw Avenue an area near Fresno State University. My apartment was on Shaw as was Pardini's therefore I have no familiarity with the downtown area.
With that rent raise ploy the residents agreed to work for Culotti FOR FREE in exchange FOR NOT RAISING THEIR RENT. Two ladies that were affected was a girl that was trying to recover from a drug habit and another female from a failed marriage.
The most impacted was a man that was running a catering business from the hotel's kitchen. He was trying to repair his life after implying that he did some time for an unknown reason. Culotti made a deal with him to feed her staff at his expense throughout the remaining time of her 90 day challenge and she would not raise his rent. At first he pointed out that $1,000 a month is a lot of money for a small room with no bathroom. With very few or no options he accepted her proposition knowing that his business existed with the need for a kitchen.
To me her proposals were heavy handed and unreasonable. Her demands indicated that she could care less about the homeless situation in the city since she was willing to barter people's shelter for their cooperation. It appeared to be a stick-up or taking advantage of individuals that were struggling to turn their lives around. They were people that were out of work and in need who were struggling to get by.
Her upside is she does know business. In need of money she convinced the owner of Shepard's Inn to apply for a government load of $150,000 which was approved. Needing more money she convinced him to put up his personal savings to complete her task.
He agreed BUT…. this is where the plot thickens. It raises the question in all cases why were these people were agreeing to involve themselves in these unknown ventures? The simple answer is they have committed their time to being on a TV show. It is not clear if these people are paid a sum of money for being in a union controlled situation. In all reality shows it raises questions of… are those appearing on a union controlled show being paid?
Culotti plays the help the community game to the hilt. She even got the city's mayor to get involved via one of her helpers being connected with city government. That individual got involved in an earlier Culotti attempt to start a grocery store business. In that situation the lady with the money and also in the grocery business backed out of the deal.
Culotti is tough and overbearing but she also gets physical and involved. She's not afraid to get her hands dirty.
Like all of the entrepreneurs involved in the show it is difficult to find any information regarding their backgrounds. In the show promotions Culotti is seen claming that she has handled over a billion dollars in real-estate. We did source material that noted she was involved in a real-estate deal in the Los Angeles area with her husband and a partner. There was a disagreement and Culotti left the business and her marriage was over.
Admittedly this show is interesting. It's an exercise in HUMAN BEHAVIOR and GREED. Cardone is GREEDY. He wants everything for himself, everything is about him. His partner in Pueblo Matt Smith has commented that Cardone is negative sometimes. Smith also noted that he wants to create business to help the community while Cardone isn't focused on that.
Culotti appears to be in the middle of both agendas but her hostage approach is questionable.
Part 3 Next: Tacoma for the home girl
© Copyright: National Radio. Any use of these materials, whole or in part, is prohibited unless authorized in writing by National Radio. Contact: nationalradio@yahoo.com All rights reserved.