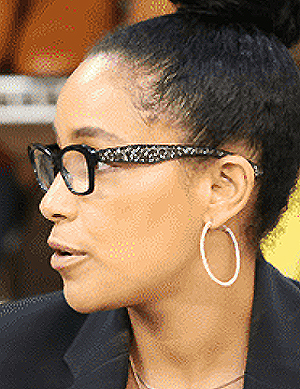 For Undercover Billionaires Monique Idlett-Mosley her praises to Jesus to help her to achieve reaching the target of creating a business with an evaluation of $1 million within 90 days was in the plan - (Discovery Channel photo)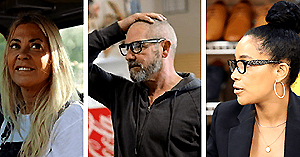 The Undercover Billionaire 3 millionaires include from left: Elaine Culotti, Grant Cardone and Monique Idlett-Mosley
Video Beat EXTRA - Undercover Billionaire's Monique Idlett-Mosley Praises Jesus

James Loving - National Radio Text Service
The Undercover Billionaire TV series is somewhat ridiculous but fascinating. Creating a business that will achieve a $1 million evaluation within 90 days during the time of COVID restraints, homelessness and joblessness is somewhat absurd. The bottom line is the show is interesting but appears to be manipulated with the goal to achieve a TV series. What is real and what is not IS UP TO YOU
WHAT'S UP LORD?
Monday October 18, 2021
As they say whatever it takes to get the job done then… DO IT. For Undercover Billionaires Monique Idlett-Mosley her praises to Jesus to help her to achieve reaching the target of creating a business with an evaluation of $1 million within 90 days was in the plan. From the start Mosley went to a church for guidance and strength. What came out of it was a strong contact with the churches minister who turned her on to some valuable local contacts.
After dealing with and observing Mosley for some time her gave her a project job of boosting the sale of a struggling business the church had an interest in. With that home girl rose to the challenge and turned the business around and had some cash to invest in her project of building an energy/health juice business.
As her competitors did she also uses people to work for her for NO MONEY. The difference is she went religious on them and went into the bag of surrounding herself with people that come from a help your fellow man mentality or in this case gaining spiritual and physical supporters.
Mosley isn't as hands on as Fresno, California based Elaine Culotti, but is more so than Pueblo, Colorado based Grant Cardone. Cardone like to talk loud and long to dazzle his subjects while Mosley utilizes the soft sell approach. Culotti is loud and demanding.
There couldn't be three more different personalities on a show that there are on this edition of Undercover Billionaire. Perhaps this was the objective of the producers of the show… if it was, THEY GOT IT.
All three have viable objectives but the 90 day time frame is challenging. For Cardone it's all about him and the money F the community. He has a massive ego and the others are more modest in their self praise.
Al three are dealing with having to achieve a $1 evaluation business within 90 days but Mosley has the most puzzling. All are challenged with dealing with a surge of nationwide unemployment problems as well as the COVID situation. The lack of money to support these businesses seems unreasonable. Mosely and Culotti were selling the helping the community with creating a business that will provide jobs for the participants and the community image.
Mosley has the most enigmatic project. She is trying to sell a health/energy juice drink that cost $5 each. She is trying to convince her buyers to take one every day. At the end of the month that's $150 to $155. One woman was so pumped up that when Mosley went to her door to deliver her six pack the woman claimed that she took three a day and saw immediate results.
It was good timing for Mosley as she was with an evaluator of her business. At the time Mosley was trying to show the evaluator how her business worked with door to door sales, in store sale and a traveling converted milk truck to her ROOTED BRAND adorned with her logo concept.
The problem we see is… can you afford a $150 a month for an energy juice drink? If so would you pay that amount monthly? Think about three a day, do you have $450 a month for a juice drink? Hey… when one considers the amount of homelessness in America and jobless the question is where is all of this money coming from to support her business? Listen up… home girl has her work cut out for her.
Mosley's background is she's going through a divorce with her husband Timbaland Zachery Mosley known professionally as Timbaland, is an American musician, record producer, rapper, singer, songwriter, and record executive. It is this relationship that she claims she helped develop his business and success. She is caring about her children and called her son on the show. Timbaland is 49 so we feel that she's in her mid 40's.
This show has aired in America and the unknown results to us are in. The deal is that the show displays human behavior and greed. Why would so many people choose to create a business when the nation is in a slow form of depression?
Mosley is dealing with a huge Trump mentality base that refuses to ware a mask for their health and everyone else's safety. These are people with a mentality that would ware a mask for fun or Halloween but not for their health. If they had the money why would these people give a crap about a health drink?
Mosley reveled that she like Cardone and Culotti is using an alias. Why would any of them resort to that since there is hardly and information on the Internet regarding their identities?
One of Cardone's helpers admitted that she searched for information on his given alias and found nothing which made her suspicious of his character. When he revealed who he really was they all acquiesced and accepted his deceptive behavior.
What stands out about the three is Cardone's ego. He plays the Israeli game of a good offenses is a good defense by calling out his haters. When the final analysis regarding his evaluation came to fruition he had his family flown in for the event in his private plane with the GC (Grant Cardone) logo on it. He's supposedly only worth $300 million. There are plenty of wealthy people worth more that would never waste money on a private plane that is expensive to upkeep.
Of all the projects the building with a small theater stands out the most. His partner Matt Smith made it all happen with his contacts and knowledge. Without Smith Cardone did virtually nothing but talk loud.
Culotti's project of establishing a fresh food market, deli, food take out service and inn room renovations is extremely challenging. From what aired prior to her final evaluation it was impressive what she had accomplished. Renting rooms without a toilet for $1,000 a month is ridiculous. It's most ridiculous given the unemployment and homeless situation in a depressed community during COVID time.
The bottom line is the show is interesting and appears to be manipulated with the goal to achieve a TV series. What is real and what is not IS UP TO YOU.
© Copyright: National Radio. Any use of these materials, whole or in part, is prohibited unless authorized in writing by National Radio. Contact: nationalradio@yahoo.com All rights reserved.