THE DEATH OF A PRINCESS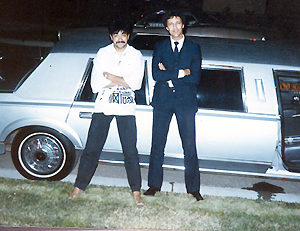 I'm pictured here during the time that I was Dodi Fayed's chauffeur in the USA with JD Nicholas the lead singer of the Commodores - NR photo


James Loving - National Radio Text Service

At the top level of the limousine business when you're driving wealthy celebrities, government officials, businessmen and royalty security is of the utmost importance. Responsible and capable individuals must be on the job to protect these clients. That is why the death of Princess Diana and Dodi Fayed DOESN'T MAKE SENSE!
Monday March 13, 2006
PRINCESS DIANA & DODI FAYED - 'THE DEATH of A PRINCESS'
"They (security) would never let him get behind the wheel if they knew he was drunk."
Those were the words of Mohammad Al Fayed the father of Dodi Fayed who died in a car crash with Princess Diana almost a decade ago. He was referring to the chauffeur that drove the couple that fatal night.
To me those words meant rang with significance. WHY? I was Dodi Fayed's assigned driver in the mid 80's when he came to Hollywood to negotiate the purchase of the MGM film studios.
When the word of his death came to me noting that it was attributed to his driver being drunk I thought &. That's Bull$#!t.
The TV show 'THE DEATH IF A PRINCESS' is currently being shown in Southeast Asia on the Fox World channel.
Mohammed was interviewed throughout the 30-minute show. He was bitter and made some very strong statements. Fayed hired former London Police chief and Scotland Yard's Lord Stephenson to investigate. Fayed accuses Prince Phillip of masterminding the murder of his son and Diana.
Fayed states that Prince Phillip's mother was mad and his father was an alcoholic. He says that Phillip was taken from his parents at the age of six by his auntie. Fayed claimed that she was married to one of Hitler's generals.
Talking about Queen Elizabeth, "Unfortunately she has a gangster as a husband."
The owner of Harrods department in the Chelsea district of London and the Fulham football club in the English Premiere League Fayed said that the relationship of Diana and Dodi (a Muslim) threatened English royalty.
When I've talked to people from England they have expressed similar views as Fayed.
As he said, "Ninety-four percent of the people in (England) believe what I say is true.
From my own experience I KNOW THIS &.. A DRIVER WOULD NEVER BE ALLOWED TO DRIVE DODI FAYED IF THEY WERE DRUNK.
I WORKED CLOSELY WITH HIS BODYGUARD EVERY DAY. THAT WOULD NEVER HAPPEN.
Whatever your experience or opinion this is a must see TV show, THE DEATH OF A PRINCESS on Fox World in Southeast Asia. Check your listing for the channel and time near you.
Coming & 'The Dodi Fayed Experience'
© Copyright: National Radio. Any use of these materials, whole or in part, is prohibited unless authorized in writing by National Radio. Contact: nationalradio@yahoo.com All rights reserved.